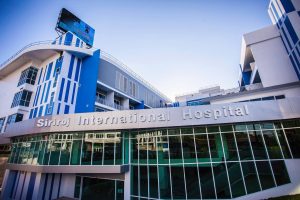 When traveling for any medical procedure abroad it is important to feel safe in your environment. At My Body & Spirit, we believe in giving you the most memorable dental surgery and plastic surgery travel experience. There is some information below about Phuket International Hospital to really give you peace of mind when booking your next trip with My Body & Spirit.
Founded in 1982, Phuket International Hospital was the first private hospital to open in the area. Phuket International Hospital has not only expanded the range of services provided, but also the size of the hospital which is in excess of 150 beds, treating hundreds of thousands of patients each year, including the first hospital in Phuket to treat medical tourists and to promote medical tourism.
Phuket International Hospital has an enviable reputation as one of the leading centers for Plastic Surgery in Thailand through the Phuket International Aesthetic Center. The majority of their patients for plastic surgery are foreigners.
Some plastic surgery treatments on offer are face lift, eyelid surgery, nose augmentation, chin and cheek enlargements, neck lift, breast enlargements, breast lift, breast reduction, tummy tuck, liposuction and arm lift.