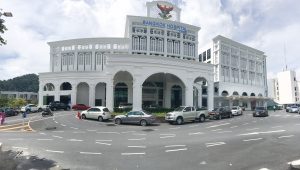 The combination of a beautiful & natural tourism destination and the international standard of medical facilities make Phuket a wonderful place for a holiday and to seek medical treatment. To make international patients confident in the medical personal, system and infrastructure, the Thailand Government have the quality program called Hospital Quality Improvement Accreditation (HA) for hospitals in Thailand to ensure and maintain quality in the healthcare services and Bangkok Phuket Hospital has this accreditation. The hospital prides itself in being an international standard hospital, having advanced technology, excellent quality of medical personal and their service. With the warm nature of Thai people, foreign visitors soon feel right at home.
For more than 14 years, Bangkok Hospital Phuket has long served its community and maintained excellent medical services. The hospital has been granted accreditation on May 23, 2009 from the Joint Commission International (JCI) and we are the first hospital in Asia to achieve this accreditation (3rd edition). Being accredited with JCI is recognition of our ongoing commitment to provide a high standard of patient care. Patients can receive greater assurance that they are receiving quality and safe care in our hospital that meets globally accepted standards.  Joint Commission International is a US-based non-profit organization focused on improving the safety of patient care and organization management through the provision of accreditation and certification.
Affordability is the advantage of medical treatment in Thailand. Patients can have international standard on medical treatments and relax in the holiday atmosphere all for a fraction of the cost of what the medical treatment would cost in their own country. Phuket is a perfect place for rehabilitation, as patients can enjoy, fresh air, sunshine, sea breezes, scenic views of oceans and mountains along with spa treatments. Thailand is becoming the health tourism hub of the world.
Bangkok Phuket Hospital is the largest hospital in Phuket Island and a member of the Bangkok Hospital group which has 15 hospitals throughout Thailand.
The hospital has established a team of internationally trained doctors, experienced nurses and multi-lingual translators to assist you in overcoming barriers of language and culture during your hospital visit.
Health and Well-Being Centre
Bangkok Phuket Hospital features a Health and Well-being centre too. This centre promotes good health and well-being and encourages patients to have an annual checkup. This enables patients to maintain their health as well as detect health problems earlier. They provide a variety of Health Checkups designed for different age groups and gender. With modern equipment and advanced technology, the hospital is able to provide accurate test results within 60-90 minutes. They offer a general well being check ups for under 40 year old and over 40 year olds. They are all excellent value and highly recommended.
Dental Centre
The dental centre offers an excellent range of dental treatments and they are able to do dental assessments for our clients prior to travelling to
Phuket. This ensures that our clients have a quote for the cost of the treatment and know what dental treatment is recommended for them.  We can pre-book all of dental appointments you require with the various specialist dentists.  In most cases the dental treatment can be completed in 2 weeks.